"...es ist das schrecklichste Gegenmittel gegen ungewöhnliche Menschen, sie dergestalt tief in sich hinein zu treiben, dass ihr Wiederherauskommen jedesmal ein vulkanischer Ausbruch wird. Doch giebt es immer wieder einen Halbgott, der es erträgt, unter so schrecklichen Bedingungen zu leben, siegreich zu leben; und wenn ihr seine einsamen Gesänge hören wollt, so hört Beethoven's Musik" (Friedrich Nietzsche, 3. Unzeitgemäße Betrachtung " ... it is the most terrible antidote against unusual individuals to drive them that much back into themselves that their re-emerging causes a volcanic eruption each time. However, there will always be a demi-god, every now and then, who will be able to live under such terrible conditions, and that victoriously: and if you want to hear his lonely songs, listen to Beethoven's music" ).

---

Once more, I have returned to this Nietzsche quote, and I wonder how much in common unusual individuals such as Beethoven and Nietzsche must have had with respect to their being driven back into themselves in order for Nietzsche to include Beethoven in his statement on unusual individuals in such a profound manner!

Therefore, this page is dedicated to exploring human traits that Beethoven and Nietzsche had in common to perhaps arrive at some answers to this question.

If one considers both men's early years, one might not necessarily come to the conclusion that they might have anything in common, since both had quite different experiences during this period, and that not to a small degree due to their different talents and their different social backgrounds. As we know, Beethoven's only talent became apparent fairly early and was, as far as possible, also furthered by his family. The term, as far as possible, tries to take into consideration that Beethoven's father at least tried to do as much for his son as he could, on the basis of his own intellectual capabilities and his own talents, namely, to be a strict teacher in the rudiments of music and of piano playing. The further course of Beethoven's musical training during his childhood can be looked up in our Biographical Pages. As we already know from these pages, Beethoven's family support consisted of his strict, yet also increasingly unstable father and his serious, soft-hearted mother. while after his mother's death, his friendship with the von Breuning family helped him to ease his transition from his youth into his young adulthood.

What was Nietzsche's situation like? From the time table in Helmut Walther's Nietzsche Pages, we can discern that Nietzsche was born into a Thuringian/Saxon family of Protestant pastors. However, his father died when he was not even five years old, yet, and from this time on, the female influence dominated in his childhood while he, as the only male family member, was cherished and guarded as the apple of their eye until his entry into the Gymnasium at Pforta. (Here, we can at least ask ourselves what trauma the death of his father might have caused in the not-yet-five-year-old who was raised in a pious family and encouraged to pray for the recuperation of his father, yet to no avail...). Moreover, the range of his talents was much broader than that of Beethoven: the Pforta student played the piano, composed and wrote poetry while his family expected of him to follow in his father's and in his maternal grandfather's footsteps in becoming a pastor. This development can also best be read up on in Helmut Walther's Nietzsche Pages.

The next opportunity that offers itself to us of taking a look at comparative information from Beethoven's and Nietzsche's lives would be the respective periods of their serious professional training, namely Beethoven's counterpoint studies in Vienna and Nietzsche's initial theological and philological studies in Bonn that turned into philological studies only during his Leipzig study years. Here, we can easily recognize that Beethoven's life could only be a life of music, be it as Bonn court musician, be it as amazing young piano virtuoso amongst his new Vienna patrons or be it as aspiring young composer, while Nietzsche, himself, as well as his family and his professional environment might have expected him to pursue an academic career as philologist, even though new influences on him already became apparent with his growing interest in Schopenhauer's philosophy and work as well as with his first meeting with Wagner during his Leipzig study years, who, to top it all off, shared his enthusiasm for Schopenhauer.

Even during their first respective social interaction as young professionals, both Beethoven and Nietzsche developed their unmistakable traits of independent, solitary minds, which both of them would increasingly develop during the course of their respective lives: both had formed friendships in their early years, and continued to do so during their young adulthood, yet, these friendships would never form the content of their lives, but, at best, provide a framework, and that always to such a degree in which these friendships were conducive to their further development that was inward-directed, while we should not go as far as stating that they might have been consciously aware of this, themselves.

At this point in their respective lives, we can only report on Beethoven's encounter with women but less with respect to Nietzsche. As we know, Beethoven had already had a few infatuations behind him when he arrived in Vienna, as Wegeler reports in his Biographische Notizen,

"Beethovens und Stephan von Breunings erste Liebe war Fräulein Jeanette d'Honrath aus Köln, die oft einige Wochen in der Breuningschen Familie in Bonn verbrachte. Sie war eine schöne, lebhafte Blondine von gefälliger Bildung und freundlicher Gesinnung, welche viel Freude an der Musik und eine angenehme Stimme hatte. so neckte sie unseren Freund mehrmals durch den Vortrag eines damals bekannten Liedes, 'Mich heute noch von dir zu trennen, und dies nicht verhindern können, ist zu emfpindlich für mein Herz!' ... Darauf folgte die liebevollste Zuneigung zu einem schönen und artigen Fräulen v. W[esterholt] ... Diese Liebschaften fielen jedoch in das Übergangsalter und hinterließen ebensowenig tiefe Eindrücke, als sie deren bei den Schönen erweckt hatten" ("Beethoven's and Stephan von Breuning's first love was Mmlle. Jeanette d'Honrath from Cologne who spent many a week at the house of the von Breuining family in Bonn. She was a beautiful, lively blonde of pleasant education and friendly disposition who enjoyed music very much and who had a pleasant voice, with which she, for example, used to tease our friend several times by singing the song, 'To separate from you even today, that is too cruel!' ... This was followed by his ardent admiration of the beautiful and well-behaved Mlle. W[esterhold] ... However, these infatuations fell into his period of transition into adulthood and did not leave any deep impressions, as they had also not left any on these beauties." Quoted and translated from: Stephan Ley, Beethoven: 43-44).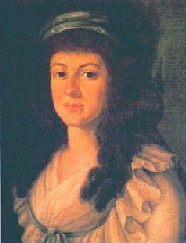 Mmlle. v. Westerholt
The first year of his career as a professional composer in Vienna, was also marked, as Beethoven research has determined, by his acquaintance with the young Bonn singer Madgalena Willmann (who had arrived in Vienna in 1794) who, in all likelihood, refused his marriage proposal of 1795, as her family later related, due to the fact that Beethoven was "ugly and half-crazy".

What might be meant by the term "half-crazy"? Is it possible that this referred to Beethoven's unusual personality that already became apparent at this time? We do not know what might have moved Beethoven to propose to Magdalena Willmann, and therefore, we should refrain from any further, idle discussion of this topic.

However, what we learn from Wegeler with respect to this time in Beethoven's life is that he was often in love and that he was interested in many of his beautiful female counterparts. However, we should not consider these first amorous steps of the young composer too important.

What we should consider important, however, is his ambition as a young composer, since already then, during the period of 1795 to the crisis of his hearing loss of 1801/1802, he was very convinced of himself, aloof and withdrawn in company he was not familiar with, and only more accessible in company he was familiar with, to the point of his famous states of being "un-buttoned". In agreement with this is his occasional dislike of playing for his patrons and their guests, his dislike of attending every meal at Prince Lichnowsky's residence, and his sensitivity that he displayed when someone did not consider him that what he considered himself to be: a young composer who had already found his way, and not a pet parrot in a golden cage. (With respect to Beethoven's pride during this period, the Haydn biographer v. Griesinger had this to say: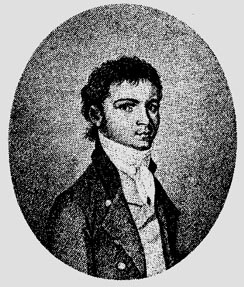 Beethoven around 1800
"Als wir beide noch jung, ich noch Attache, Beethoven nur berühmt als Klavierspieler, als Komponist aber noch wenig gekannt war, trafen wir uns beim Fürsten Lobkowitz. Ein Herr, der sich für einen großen Kunstkenner hielt, knüpfte ein Gespräch mit Beethoven an, das sich um Lebensstellung und Neigung der Dichter drehte.

'Ich wünschte', sagte Beethoven mit liebenswrdiger Offenheit, 'ich wäre alles Handelns und Feilschens mit den Verlegern überhoben und fände einen, der sich entschlösse, mir für meine Lebenszeit eine bestimmte Jahresrente zuzusichern, wofür er das Recht haben sollte, alles, was ich komponiere, verlegen zu dürfen, und ich würde im Komponieren nicht träge sein. Ich glaube, Goethe hat es so mit Cotta, und, wenn ich nicht irre, hat es Händels Londoner Verleger so mit ihm gehalten.' 'Mein lieber junger Mann,' sagte zurechtweisend jener Herr, 'Sie müssen sich nicht beklagen, denn Sie sind weder ein Goethe noch ein Händel, und es ist auch nicht anzunehmen, daß Sie es werden, denn solche Geister werden nicht wieder geboren.'

Beethoven biß die Zähne zusammen, warf dem Herrn einen geringschätzigen Blick zu und sprach kein Wort mehr mit ihm, äußerte sich auch ziemlich heftig über die Unverschämtheit jenes Mannes.

Fürst Lobkowitz suchte Beethoven friedlichere Gesinnungen einzuflößen und sprach freundlich: 'Lieber Beethoven, der Herr hat Sie ja nicht beleidigen wollen, es ist ja hergebracht, daß die meisten Menschen nicht glauben wollen, daß einer ihrer jüngeren Zeitgenossen so viel in der Kunst leisten werde wie die Alten oder Verstorbenen, welche ihren Ruf bereits haben.'

'Leider wahr, Durchlaucht', versetzte Beethoven, 'aber mit Menschen, welche an mich nicht glauben wollen, weil ich noch nicht den allgemeinen Ruf habe, mag und kann ich nicht umgehen.'" ("When we were both still young, I an attache, and he only famous as a piano virtuoso and not yet as a composer, we met at Prince Lobkowitz' palace. A gentleman who considered himself to be quite a connoisseur in matters of art, started a conversation with Beethoven that centered around the position in life and the income of poets. 'I wish,' said Beethoven with amiable openness, 'that I would be rid of all trading and dealing with publishers and that I would find one who would resolve to pay me a certain annual pension for the rest of my life, in exchange for which he would have the right to publish everything that I compose, and I would not be lazy in composing. I believe that Goethe has such an arrangement with Cotta and that, if I am not mistaken, Handel's publisher in London held it likewise.' 'My dear young man,' replied the gentleman in rebuke, 'you must not complain, since you are neither a Goethe nor a Handel, and it is not to be expected that you will ever become one, since such minds will not be born, again.' Beethoven gritted his teeth, merely looked at him in contempt and did not speak another word with him, yet, commented angrily on the rudeness of this man. Prince Lobkowitz sought to calm Beethoven down with these friendly words, 'My dear Beethoven, this gentleman did not want to insult you, as it is commonly known that most people do not want to believe that their younger contemporaries will accomplish as much in art as did the older ones or the already departed who are already famous.' 'Unfortunately, that is true, Prince,' replied Beethoven, 'but with men who do not want to believe in me because I have not acquired general fame, yet, I can and do not want to keep company.'" Quoted and translated from: Ley: 83 - 84).

Compared with this, there can be observed a somewhat similar development in the start of Nietzsche's career.
Nietzsche in Leipzig, 1866
(Source: Nietzsche-Website,
Helmut Walther)
Already before Nietzsche had completed his philological studies, his extraordinary talents in this field had been recognized and, through the efforts of his teacher Ritschl, already at the age of 24 years, he received his offer of a professorship in philology at the University of Basle, Switzerland. His peers were apparently ready to embrace and also consume him as one of their own and offered him a veritable golden cage in form of this extra-ordinary offer. Almost simultaneously with the unfolding of his Basel career, Nietzsche's friendship with Wagner unfolded during his frequent visits at Wagner's refuge in Tribschen at Lake Lucerne.
By all appearances, both young men stood at the beginning of their respective, brilliant careers that were staked out not only by themselves but also by their environments. In both instances, however, we see that increasingly ill health as well as a further development of their respective unusual natures played important roles in the unfolding of the development of both men. As we know from our Biographical Pages, with Beethoven it was his increasing loss of hearing and increasing ill health with respect to his digestive system, and, as an immediate effect of this, his artistic transition from his so-called first creative period to his so-called second creative or heroic period, from approximately 1802/1803 on. [To this, I want to quote a passage from his November 1801 letter to Wegeler:
"Meine körperliche Kraft -- sie nimmt seit einiger Zeit mehr als jemals zu, und so meine Geisteskräfte; jeden Tag gelange ich mehr zu dem Ziel, was ich fühle, aber nicht beschreiben kann. . . . " ("My physical strength -- it has been increasing more than ever, for some time now, and so do my mental powers; each day, I come closer to my goal that I feel, yet can not describe. . . ." Quoted and translated from: Schmidt, Beethoven=Briefe: 24).]
With Nietzsche, it was his increasing unease with respect to his role as Professor of philology at the University of Basle in light of the simultaneous development of his friendship with Richard Wagner and in light of the latter's influence on him that also contributed to Nietzsche's writing of his first book, Die Geburt der Tragödie aus der Musik [The Birth of Tragedy out of Music], the publication of which undermined his professional career as philologist but which also signaled the beginning of his actual role as important thinker of the 19th century. During these years, Nietzsche's health was also subjected to increasing attacks on it.
| | |
| --- | --- |
| Giulietta Giuicciardi | Josephine v. Brunsvik-Deym |
While Beethoven's further interaction with women during his creative years of 1799 to 1810 was shaped by several encounters such as, for example, by his possible disappointment over Josephine v. Brunsvik's being married off in the summer of 1799, his unsuccessful relationship with her cousin, Giulietta Giucciardi, very likely the "liebe, zauberische Mädchen [dear, enchanting girl]" of his letter of fall 1801 to Wegler, his intense passion for the young widow Josephine v. Brunsvik-Deym in the years 1804/1805, his good, yet also here and there stormy friendship with Countess Marie Erdödy during the years of 1807 - 1809,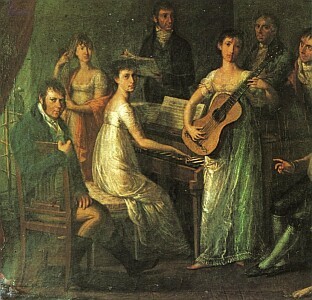 Therese v. Malfatti at the piano,
in the company of her family
and finally by his possibly hasty marriage proposal to Therese v. Malfatti in 1810, for which he, apparently, even requested Wegeler to send him his baptismal certificate,

"Wien, am 2. Mai 1810.


Guter alter Freund -- beinahe kann ich es denken, erwecken meine Zeilen Staunen bei Dir, -- und doch, obschon Du keine schriftliche Beweise hast, bist Du doch noch immer bei mir im lebhaftesten Andenken. ... -- Du wirst mir die freundschaftliche Bitte nicht abschlagen, wenn ich Dich ersuche, mir meinen Taufschein zu besorgen. -- Was immer für Unkosten dabei sind, da Steffen Breuning mit Dir in Verrechnung steht, so kannst Du Dich da gleich bezahlt machen, so wie ich hier gleich alles an Steffen ersetzen werde. . . . " ("Vienna, the 2nd of May, 1810, good, old friend -- I almost think that my lines will evoke astonishment in you, -- and yet, even though you do not have any written evidence, you are still very vivid in my memory. ... You will not refuse me this request made in friendship, if I ask you to obtain my baptismal certificate for me. -- Whatever the costs will be, since Steffen has an account with you, you can be re-imbursed immediately through him, as I, in turn, will re-imburse Steffen. . . . " Quoted and translated from: Schmidt, Beethoven=Briefe: 66),

which then, all of a sudden, if we follow Stephan von Breuning's letter to Wegeler (Thayer: 490), was no longer as urgent since the marriage plans connected with it had "fallen through",

[A premonition of his not being accepted by the Malfattis as their social equal can already be discerned in Beethoven's lines to his friend, Ignaz von Gleichenstein who had introduced him to the Malfattis in 1810:

"Deine Nachricht stürzte mich aus den Regionen des höchsten Entzückens wieder tief herab. Wozu denn der Zusatz, Du wolltest mir es sagen lassen, wenn wieder Musik sei? Bin ich denn gar nichts als Dein Musikus oder der anderen? -- so ist es wenigstens auszulegen. Ich kann also nur wieder in meinem eigenen Busen einen Anlehnungspunkt suchen, von außen gibt es also gar keinen für mich. -- Nein, nichts als Wunden hat die Freundschaft und ihr ähnliche Gefühle für mich. -- So sei es denn, für dich, armer B., gibt es kein Glück von außen, du mußt dir alles in dir selbst erschaffen, nur in der idealen Welt findest du Freunde. -- Ich bitte Dich, mich zu beruhigen, ob ich den gestrigen Tag verschuldet; oder wenn Du das nicht kannst, so sage mir die Wahrheit, ich höre sie ebensoferne als ich sie sage -- jetzt ist es noch Zeit, noch können mir Wahrheiten nützen. -- Leb wohl -- laß Deinen einzigen Freund Dorner nichts von alledem wissen" ("your news threw me out of the loftiest regions of delight. Why the remark that you will let me know when there shall be music, again? Am I, then, nothing else than your musician and that of the others? -- this is how it has to be interpreted, at least. Again, I can only turn inward into my own bosom, there is no point for me to hold on to, on the outside. ... No, nothing but wounds do friendship and similar feelings hold for me. ... Thus it is for you, poor B., there is no happiness for you from the outside, you must create it for yourself, on the inside, only in the ideal world will you find friends. ... I ask you to give me re-assurances with respect to whether or not I am to blame for yesterday, myself; or if you can not do that, then tell me the truth, I like hear it as much as I like to tell it-- now, there is still time, now, the truth can still be of use to me. -- Farewell -- do not let your only friend Dorner know anything of this") ,

while the following lines have been written to Gleichenstein subsequently, perhaps even in connection with Beethoven's request of him to convey his written marriage proposal to the Malfattis:

"Du lebst auf stiller ruhiger See oder schon im sichern Hafen -- des Freundes Not, der sich im Sturm befindet, fühlst Du nicht -- oder darfst Du nicht fühlen. -- Was wird man im Stern der Venus Urania von mir denken, wie wird man mich beurteilen, ohne mich zu sehen, -- mein Stolz ist so gebeugt, auch unaufgefordert würde ich mit Dir reisen dahin. -- Laß mich Dich sehen, morgen früh bei mir, ich erwarte Dich gegen 9 Uhr zum Frühstücken. -- Dorner kann auch ein andermal mit Dir kommen. -- Wenn Du nur aufrichtiger sein wolltest! Du verhehlst mir gewiß etwas, Du willst mich schonen und erregst mir mehr Wehe in dieser Ungewißheit, als in der noch so fatalen Gewißheit. -- Leb' wohl, kannst Du nicht kommen, so laß mich es vorher wissen -- denk' und handle für mich -- Dem Papier läßt sich nichts weiter von dem, was in mir vorgeht, anvertrauen" ("You live on a calm sea or are already in a safe harbor -- your friend's need who is still in the midst of the storm, you do not feel -- or you are not allowed to feel.-- What will they think of me near the star of Venus Urania, how will they judge me, without seeing me.--my pride has been lowered so much that I would even go there with you without being invited.--Come to see me tomorrow, I expect you around 9 for breakfast.--Dorner can come along some other time.--If you would only be more honest! You are certainly hiding something from me, you want to spare my feelings and yet, in doing so, you excite me even more with this uncertainty than with any possibly worse certainty. -- Farewell, if you can not come, then let me know, beforehand -- think and act for me -- nothing can be conveyed to paper of that which goes on inside of me" (Quoted and translated from: Schmidt, Beethoven=Briefe: 53 - 54); Thayer explains that Beethoven's letters to Gleichenstein and to Therese Malfatti had been considered to belong to the year 1807, for the longest of time, while Riemann's research finally placed them into the year 1810, which finally connected Wegeler's report,

"It seems that Beethoven, once i his life, entertained the idea of marriage, after having been in love many times. . . . Many persons as well as myself were impressed by the urgency with which in his letter of May 10 he besought me to secure his baptismal certificate for him. . . . I found the solution of the riddle in a letter written to me three months later by my brother-in-law St. v. Breuning. In this he says: 'Beethoven tells me at least once a week that he intends to write to you; but I believe his marriage project has fallen through, and for this reason he no longer feels the lively desire to thank you for your trouble in getting him the baptismal certificate.' (Thayer: 490),

and Beethoven's letter to him of May 1810 with them and created a logical sequence of likely events],

we learn of a somewhat similar hasty course of action during Nietzsche's comparable phase in his life, in the year 1876.

As the Leipzig Nietzsche website of virtusens.de reports in its chronological account of Nietzsche's life, the latter, during a vacation at lake Geneva in the spring of 1876,
Mathilde Trampedach
(Source: www.virtusens.de)
"...im Hause des Musikers H. .v. Senger die Bekanntschaft mit dessen Klavierschülerin, der Holländerin Mathilde Trampedach. Dieser macht er am 11. April 1876 nach wenigen gemeinsamen Stunden und einem längeren Spaziergang unvermittelt einen schriftlichen Heiratsantrag: 'Nehmen Sie allen Mut Ihres Herzens zusammen, um vor der Frage nicht zu erschrecken, die ich hiermit an Sie richte: Wollen Sie meine Frau werden? Ich liebe Sie und mir ist es, als ob Sie schon zu mir gehörten. Kein Wort über das Plötzliche meiner Neigung!' Gleichzeitig kündigt er ihr an, daß er in dem Moment, in dem sie den Brief ausgehändigt erhält, schon aus Genf abgereist sein wird. Die zweiundzwanzigjährige Mathilde erschrickt wohl zu Recht über dieses doppeldeutige Verhalten und lehnt den Antrag ab. Sie wird später die Frau H. von Sengers" (Nietzsche-Website of virtusens.de, cited on February 3, 2001; here, it is reported that Nietzsche, in the house of the musician H.v.Senger, made the acquaintance of the latter's young Dutch piano student, Mathilde Trampedach. After only a few walks and after only a few hours spent together, Nietzsche proposed to her in writing on April 11: 'Muster up all the courage of your heart so that you do not get frightened by my question: Do you want to become my wife? I love you and I feel as if you already belong to me. Not one word with respect to my sudden inclination!' Further, it is reported that the same time, Nietzsche announced to her that, while she will be reading his lines, he will already have left Geneva, and that the 22-year-old girl was justifiably confused, declined his offer, and later married H.v.Senger).

Here, we can see a certain similarity between Beethoven and Nietzsche in their thirties, at their respective ages of 39 and 32, at which both of them had already been through considerable health problems and at which both of them were well on their way on their creative paths. The question that we might wish to raise would be as to whether or not both of them had their failures already built into their courses of action in order to prevent from happening what they might not have wished for, in the first place.

Both experienced at least one further important encounter with a woman that would have a profound effect on them. In Beethoven's case this refers to, as we already know from our Biographical Pages, his relationship with his Immortal Beloved which found expression in his letter to her of July 1812 which he wrote to her from Teplitz, his subsequent decision to forego his happiness with her, his mourning for her, his entering the last phase of his second creative period and his transition into his third creative period. Since the identity of this woman can still not be determined with absolute certainty and since the more serious considerations refer to three women, namely to Josephine v. Brunsvik (supported by Kaznelson, Harry Goldschmidt, and Marie-Elisabeth Tellenbach), Antonie Brentano (supported by Maynard Solomon) and Countess Marie Erdödy (supported by Gail S. Altman), a meaningful, brief discussion of this topic is not feasible in this context .



Josephine v. Brunsvik-Deym




Antonie Brentano




Countess Marie
v. Erdödy


Read Beethoven's letter of July 1812 to his
Immortal Beloved
What we can do, however, is to conclude that, while Beethoven, due to whatever reason, did not find his happiness at the side of this woman, this relationship was the last important relationship to a woman in his life.

Compared to this, Nietzsche's 1882 acquaintance with Lou von Salome offers us a wealth of material to consider, which you can best investigate in Helmut Walther's Nietzsche website. I wish you an interesting reading experience with it and ask you to use the back button of your browser in order to return to this site. Here is the link: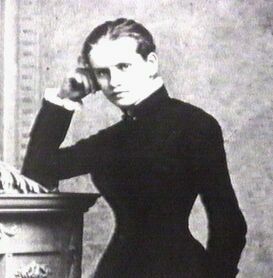 Lou von Salome
(Source: Nietzsche Website, Helmut Walther)
Nietzsche's Encounter with Lou von Salome
What did Beethoven and Nietzsche "gain" from their respective experiences? What can be discerned as the most obvious similarity is that both were driven even further back into themselves after their encounters than ever before, that the course of their respective illnesses progressed (as, for instance, Beethoven's loss of hearing increased dramatically after 1812 and, by 1818, he had to completely rely on his famous conversation books in order to communicate with his visitors), and that this also had a profound effect on their respective work. As examples might serve the increased spiritual expressiveness in Beethoven's late works on the one hand, and an increased power of expression in Nietzsche's language, as in his Zarathustra that he wrote from the winter of 1883 on.

Both men's very late remarks with respect to the topic of women can be seen as a remarkable contrast to, on the one hand, Beethoven's relinquishing of his happiness with the Immortal Beloved after 1812/1813 and, on the other hand, to Nietzsche's encounter with Lou von Salome. As late as during his final illness, Beethoven, when visiited by the composer Hummel and his wife, expressed his regret at never having married, while of Nietzsche, it is reported that, after his "insanity notes" to Cosima Wagner of January, 1889, he mentioned during his hospitalization at Jena that "meine Frau Cosima" (my Frau Cosima) had brought him there. This might point towards the possibility that in Cosima Wagner, Nietzsche had met the ideal wife of an great artist and/or of an important professional man, that he could not find in his own life. On the other hand, we can discern from Beethoven's letter to his Immortal Beloved that he knew the potential of his Beloved very well and that it did not necessarily coincide with his off-and-on-yearning for a regular home life.

In this context, we might not find the term of demi-god that Nietzsche used in connection with Beethoven or even his term of the super-human appropriate, in any way, so that I might, not without reason, have chosen the title of his book Menschliches, Allzu Menschliches (Human, all too human) as an appropriate title for this section. Or can you imagine that a demi-god or a super-human would suffer to such a degree from the outcome his self-inflicted actions that he would be driven back into himself and thereby driven towards an intensified, more profound creativity?

---

After this comparison of Beethoven's and Nietzsche's encounters with women we are ready to explore the other extreme of the dynamics of this topic, namely NIetzsche's involvement with music, which you can access via the link to the left on the menu bar or via the following link: