The work to be discussed here in detail can also look back on a time span of more than a decade during Beethoven's lifetime with respect to its creation, first performance and subsequent performance. With respect to the year 1806 in which its first traces can be observed, we have already had several occasions to note that many rather lyrical works are attributed to it, such as, for example, the Violin Concerto and the Fourth Piano Concerto, while we also noted in our Biograpical Pages that Beethoven fell out with Prince Lichnowsky during his summer stay at Troppau and that he very likely at to fend for himself without the 600 florin annuity from Lichnowsky.

According to Thayer, Beethoven appears to have worked more intensively on his third Cello Sonata in 1807 (Thayer: 450), while completion sketches appear in 1808 (Thayer: 434- 435), for which he relies on Nottebohm who reportedly described a sketchbook that he attributed to the year 1808 and in which sketches to Op. 69 were found alongside with those of the Fifth Symphony and the Trio for Pianoforte, Violin and Violoncello, Op. 70 (dedicated to Countess Erdödy). Thayer further notes that Beethoven completed Op. 69 in 1808.

Regarding this important period in Beethoven's life with respect to his attaining some financial security we have already had several occasions to discuss it, namely mainly in our Biographical Pages, in the Creation history of the Ode to Joy, but also in that of the Piano Concertos. The fall of the completion year of the creation of this work saw Beethoven's move to his Krügergasse lodgings in the same building as Countes Erdödy. With respect to this move, Beethoven commented as follows in his November 1, 1808, letter to Count von Oppersdorf:

"Bester Graf!

Sie werden mich in einem falschen Lichte betrachten, aber Not zwang mich, die Sinfonie, die für Sie geschrieben, und noch eine andere dazu an jemand anderen zu veräußern. Sein Sie aber versichert, daß Sie diejenige, welche für Sie bestimmt ist, bald erhalten werden. -- Ich hoffe, Sie werden immer wohl gewesen sein, wie auch Ihre Frau Gemahlin, der ich bitte mich bestens zu empfehlen. -- Ich wohne gerade unter dem Fürsten Lichnowsky, im Falle Sie einmal mir in Wien die Ehre Ihres Besuches [machen]; bei der Gräfin Erdödy. Meine Umstände bessern sich -- ohne Leute dazu nötig zu haben, welche ihre Freunde mit Flegeln traktieren wollen. -- Auch bin ich als Kapellmeister zum König von Westfalen berufen, und es könnte wohl sein, daß ich diesem Rufe folge.

Leben Sie wohl und denken Sie zuweilen an

Ihren ergebensten Freund

Beethoven" (Schmidt, Beethoven=Briefe: 58; Best Count, you might view my in a wrong light, but necessity forced me to give the symphony that was to be written for you, alson with another one, to someone else. Rest assured, however, that you will receive the one that is supposed to go to you, soon.--I hope that you have been keeping well, as well as your wife, the Countess to whom I beg you to send my best regards.--At present, I live in the same building as Prince Lichnowsky, just in case that you wish to give me the honor of your visit, namely also with Countess Erdödy. My circumstances are improving--without the need to rely on people who maltreat their friends with the company of impertinent guests.--I have also been appointed as Kapellmeister by the King of Westfalia, and I might well take this offer up. Farewell and think occasionally of your devoted friend Beethoven).

With respect to this work and any artists liable to perform in it can be noted that on June 1, 1808, there arrived in Vienna the violoncellist Josef Linke from Breslau, a young man of 25 years, slightly deformed and an orphan, who joined the Schuppanzigh Quartet (Thayer: 442) and that the 'someone else' whom Beethoven offered the works mentioned to Count von Oppersdorf, along with Op. 69, was Breitkopf and Härtel of Leipzig, to whom he had initially offered it with his letter of June 8, 1808. From the above-mentioned sources, we are already familiar with the course of events of the turn of 1808/1809.

The annuity contract of 4,000 florins annually in favor of beethoven was completed in March, 1809 and that was formed with the help of Countess Erdödy and Baron Ignaz von Gleichenstein, might have prompted Beethoven to dedicate Op. 69 to Gleichenstein. His letter of March to Gleichenstein who went to his native Freiburg during the course of this month, shows Beethoven's relief with respect to this turnout of events: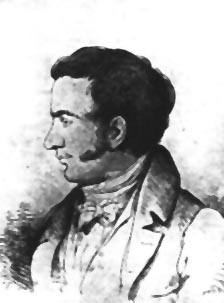 Baron Ignaz von Gleichenstein
"Du siehst, mein lieber guter Gleichenstein, aus Beigefügtem, wie ehrenvoll nun mein Hierbleiben für mich geworden -- der Titel als Kaiserl. Kapellmeister kömmt auch nach -- etc. -- Schreibe mir nun sobald als möglich, ob Du glaubst, daß ich bei den jetzigen kriegerischen Umständen reisen soll, -- und ob Du noch fest gesonnen bist mitzureisen. Mehrere raten mir davon ab, doch werde ich Dir hierin ganz folgen; daß Du mir und ich Dir eine Strecke entgegenreise -- schreibe geschwind. -- Nun kannst Du mir helfen eine Frau suchen; wenn Du dort in F[reiburg] eine schöne findest, die vielleicht meinen Harmonien einen Seufzer schenkt, doch müßte es keine Elise Bürger sein, so knüpf' im voraus an. -- Schön muß sie aber sein, nichts nicht Schönes kann ich nicht lieben -- sonst müßte ich mich selbst lieben. Leb' wohl und schreibe bald. Empfehle mich Deinen Eltern, Deinem Bruder. --

Ich umarme Dich von Herzen und bin

Dein treuer Freund

Beethoven" (Schmidt, Beethoven=Briefe: 62 - 63; 'You see, my dear, good Gleichenstein, from the attached, how honorably my stay here has become for me--the title of Imperial Kapellmeister will follow--etc.--Write to me as soon as possible as to whether you think that under the present war-like conditions, you are still bent on traveling with me. Several people advise me against it, however, I will follow you entirely in this respect, so that we can travel into each other's direction for some stretch.--Now, you can also help me to find a wife; if you can find there in F[reiburg] a beauty who might lend some harmonies to my sighs, however, it must not be an Elise Bürger.--She has to be beautiful, I cannot love anything that is not beautiful, lest I would have to love myself. Farewell and write to me, soon. Give my regards to your parents, to your brother.--I embrace you sincerely and am your faithful friend Beethoven').

The work was also performed during this month for the first time, and that on the occasion of an Academy concert on March 5 for the benefit of the cellist Nikolaus Kraft, with the latter and Baroness Ertmann at the piano as performers.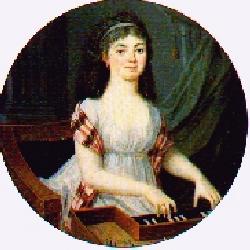 Baroness von Ertmann
With respect to the further fate of this Sonata can be reported that Beethoven wrote on the upper edge of page 17 of the n Materialien zum Generalbass notierte, "Printer's errors in the sonata for pianoforte with obbligato violoncello", "from 101 to 1000 florins a quarter--all residents or parties to rent-contracts without distinction" (Thayer: 467), which refers to the forced contribution imposed on June 28. 1808. We already reported on this in our creation history of the Piano Concertos.

According to Thayer's report, Beethoven had written to Breitkopf and Härtel on July 26, 1809, that he would send him a list of errors to Op. 69. In his further letter of August 8, he mentions the following in his post script:

"Von der Violonschell-Sonate wünschte ich noch einige Exemplare zu haben; überhaupt bitte ich Sie, mir immer noch ein halb Dutzend Exemplare zu schicken -- ich verkaufe nie welche -- es gibt unterdessen hier und da arme Musici, denen man so was nicht abschlagen kann -- " (Schmidt: Beethoven=Briefe: 64;'Of the Violoncello Sonata I wish to have a few copies; I ask you in general to always provide me with half a dozen of these--I never sell them--yet, there are some poor musicians here and there whom one cannot refuse this favor).

The publication by Breitkopf and Härtel is still noted by Thayer as having occurred during 1808, namely "dediee a Monsieur le Baron de Gleichenstein" (Thayer: 478).

This work still saw a further performance during Beethoven's lifetime, namely in 1816, and with this, still reaches beyond the 1815 creation of Op. 102.

With respect to this it should be reported that in October, 1815, Countess Erdödy sold her small Jedlesee Estate and left Vienna altogether with her entire household, including the cellist Josef Linke that had been employed by her in 1815. However, the latter returned to Vienna once more before this year was out in order to assist Schuppanzigh in the first performance of his quartet series. Since he, however, had to eventually return into the service of Countess Erdödy and since Schuppanzigh was to leave Vienna for his pursuit of a career in Russia, there were slated two farewell concerts in the winter of 1815/1816. Schuppanzigh's Concert featured only works of Beethoven: the C Major Quartet, Op. 59 (the so-called Razumovsky Quartet), No. 3, the Quintet for Wind Instruments and Pinaoforte, Op. 16, with Carl Czerny at the Piano, and the Septet, Op. 20. Thayer reports that Beethoven."'entered at the beginning of the quartet' and shared in the deafening applause of the crowded audience" (Thayer: 640). On this occasion, so Thayer, Czerny,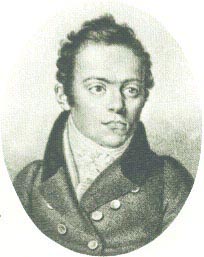 Carl Czerny
"When once, for instance, I played the Quintet with Wind-Instruments with Schuppanzigh, I permitted myself, in a spirit of youthful carelessness, many changes, in the way of adding difficulties to the music, the use of the higher octave, etc.--Beethoven quite rightly took me severely to task in the presence of Shuppanzigh, Linke and the other players. The next day I received the following letter from him, which I copy carefully from the original draft:

'Dear Czerny!

Today I cannot see you, but tomorrow I will call on you myself to have a talk with you.-- I burst forth so yesterday that I was sorry after it had happened; but you must pardon that in a composer who would have preferred to hear his work exactly as he wrote it, no matter how beautifully you played in general--I shall make amends publicly at the Violoncello Sonata. Be assured that as an artist I have the greatest wishes for your success and will always try to show myself--

Your true friend Beethoven'

This letter did more than anything else to cure me of the desire to make changes in the performance of his works, and I wish that it might have the same influence on all pianists" (Thayer: 640-641).

Linke's concert took place on February 18 in the hall "Zum Römischen Kaiser", and the works performed were, with the exception of a Rondoletto for Violoncello by Romberg, exclusively by Beethoven. Stainer von Felsburg played the Violoncello part, while Czerny played the piano part and Beethoven "made amends publicly" in his favor. After this concert in his honor and to his benefit, Linke returned to the service of Countess Erdödy.
TO THE CREATION HISTORY OF OP. 102